Rob Hosack, AICP
Director

Open Records Request:
comdevopenrecords
@cobbcounty.org
FAX: 770.528.2126


P.O. Box 649
Marietta, GA
30061


Office hours:
8 a.m. - 5 p.m.
Monday through Friday
Community Development Agency
---
Historic Preservation
Visit the Historic Markers Page

Visit the Historic Driving Tour Page
May 2013 Shoupade Park Tours
Preservation Month Open House Information
Preservation Month Open House Information with Descriptions
Cobb County is one of the fastest growing counties in the state of Georgia. Because of growth, the county faced the challenge of preserving its rich past, while accommodating the demand for new development. Cobb answered the problem by creating an active preservation partnership.

One of the group's early accomplishments was the 1988 publication of "Architecture, Archaeology and Landscapes: Resources for Historic Preservation in Unincorporated Cobb County, Georgia," the AA&L, which is a comprehensive survey of historic sites.

History in site
The area that is now Cobb County was once a part of the Cherokee and Creek Nations. In 1832, the State Legislature passed an act creating Cobb County. This area has a diverse collection of historic sites that date from prehistoric times to the modern era. Ancient Indian sites, Civil War battle fortifications, the earliest industrial sites and rural farmhouses are among Cobb's precious cultural legacy.

Balancing past and present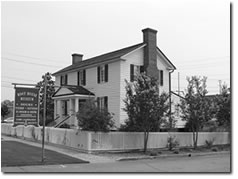 The first major step taken by Cobb County toward protecting its past was the passage of a countywide historic preservation ordinance in 1984. This ordinance was the first of its kind in Georgia. The ordinance established the Cobb County Historic Preservation Commission, known as CCHPC.

The preservation commission is made up of five county residents who are appointed by the Board of Commissioners. Members of the preservation commission have keen interest and knowledge that qualify them to recommend specific buildings, districts, sites, structures or works of art to receive historical designation. They make recommendations to the Board of Commissioners.

Designating history
The preservation commission can recommend properties and cultural resources which they feel warrant protection. These recommendations are made to the State Historic Preservation Office for nomination to the National Register of Historic Places. If the nomination is approved by the state, the owners of the structures must be notified, and the sites maybe eligible for federal preservation grants. This process also ensures that impact to the properties will be considered during the planning and construction of federally funded or permitted projects.

Recommendations can also be made for sites to be placed on the Cobb County Register of Historic Places. The Board of Commissioners has the final authority to approve the potential sites and decide whether or not they will be added to the county register.

In 1992, the county adopted a landmark historic property tax abatement program. Property that is listed on the National or Georgia Register and the Cobb County Register of Historic Places may qualify for an eight-year tax assessment freeze.

Certifying history
After a site has been locally designated and prior to a change being made in the material or the external appearance of the site, the owners or occupants must obtain a Certificate of Appropriateness (COA) from the historic preservation commission. During the certificate process, the determinations made by the preservation commission may be appealed to the Board of Commissioners. Owners can appeal the board's decision to Cobb Superior Court.

Recent projects
Demolished Historic Structures
In order to aid in the preservation of Cobb County's history, the county has sought to mitigate the demolition of historic structures by development. In instances when a historic building has been present on property subject to new development and the building cannot be saved, the county has required developers to properly document the structure before it is demolished. This includes hiring a cultural resource consultant to produce a history of the building and its occupants, along with archival-quality photographs of the building and its setting. The reports have been submitted to the county's historic preservation planner.
Demolished Historic Structure Inventory



Historic Markers
The Cobb County Historic Preservation Commission has recently been and is currently involved with three major projects that highlight Cobb County's rich historic resources. These are the Historic Marker Program, Historic Resources Survey and Historic Driving Tour Brochure. Follow the link below for additional information on these projects:
Historic Marker Program


Sites to behold
In Cobb County, there are 31 National and Local Register Sites, including 12 districts which are listed on the national and/or local registers of historic places. These include Zion Baptist Church which dates back to 1866 and is the oldest black Baptist Church building in the county and "The General," the famed locomotive housed in Big Shanty Museum in Kennesaw.

Another of the county's historic sites is the Andrew J. Cheney-Newcomer house. This Greek Revival plantation house was built around 1856 and survived the Civil War due to its use by Federal troops as a headquarters building. The Cobb County Register of Historic Places lists 13 sites and two districts. The Concord Covered Bridge Historic District contains four historic homes and a railroad trestle bridge along with the district's centerpiece, the Concord Covered Bridge.

To purchase a copy of the AA&L, contact the Historic Preservation Planner's Office at the Community Development Agency, Planning Division, 1055 Powder Springs St, Marietta GA 30164.

The preservation commission holds regular meetings open to the public on the second and fourth Monday of each month. The meetings are held at 6:30 p.m. at the Cobb County Building "A" in downtown Marietta.