Rob Hosack, AICP
Director


P.O. Box 649
Marietta, GA
30061

Office hours:
8 a.m. - 5 p.m.
Monday through Friday


Community Development Agency
---
Frank Gipson
Erosion & Sediment Control Manager
frank.gipson@cobbcounty.org
P.O. Box 649
Marietta, GA 30061
770.528.2190
fax 770.528.2095

Complaints & Violations -

Erosion
Return to Complaints & Violations Page


Report Erosion Issues



The Erosion & Sediment Control Division is responsible for the enforcement of state law and the county ordinance for erosion & sediment control to preserve the natural resources in Cobb County.

Through inspections and training we assist residents and developers with:
Erosion issues related to a building or Land Disturbance Permit
Please call our office at (770) 528-2190

Trenching & Excavation Safety Course – A Short safety course designed to teach the Cobb County Rules and Regulations and the Occupational Safety and Health Administration (OSHA) safety standards.
In addition, we respond to resident's inquiries and complaints regarding:
Best Management Practices (BMP's) Required – Reference to Georgia Soil and Water Conservation Commission Field Manual. Vegetative and Structural BMP's.

Building Lot Eroding – When sediment or silted water is leaving site with no preventive measures installed.

Erosion Complaint (no drainage) – If soil is leaving residential building lot.

Mud in Streets – If erosion is occurring in a public road or right of way.

Silt Fence Down – Silt fence is down allowing erosion to leave site.
* Please note: For commercial lots, please contact Development and Inspections at (770) 528-2041.




Report Erosion Issues
Please note:
This form is for residential sites only.
Visit our Inspections Page for commercial construction sites.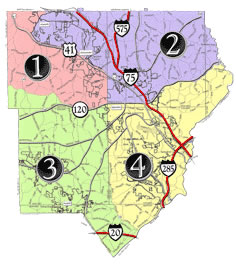 To report an erosion control issue, view this map and click on the number that correspond the area of the county where the residential construction site is located.

If you are unsure of the location on the map, Click Here.

Otherwise, please choose the zone that corresponds with the location of the issue at hand.



Zone 1

Zone 2

Zone 3

Zone 4


Helpful Links